Firefighters frequently start their career in excellent physical condition. The nature of firefighting work–periods of relative inactivity interspersed with highly strenuous work–and aging can lead to a decline in fitness and heart problems.
---
Cardiosvacular Promotion and Prevention Programs
IAFF Wellness-Fitness Initiative (WFI)
Developers: International Association of Fire Fighters
Description: A wellness program comprised of medical evaluations, rehabilitation program, fitness training, and behavioral health evaluations.
Learn more about the WFI
IAFF/IAFC/ACE Peer Fitness Training Certification Program
Developers: International Association of Fire Fighters, International Association of Fire Chiefs, American Council of Exercise
Description: A certification program that trains firefighters how to set up and lead fitness program for other firefighters in their own department.
Learn more about peer fitness training program
Risks Beyond the Fire Ground: Fitness, Nutrition, Substance Use & Sleep
Presenter: Dr. Sara Jahnke (Center for Fire, Rescue and EMS Health Research)
Published: 2018
Description: A 50-minute video on the measures that firefighters can take to improve their physical and mental health.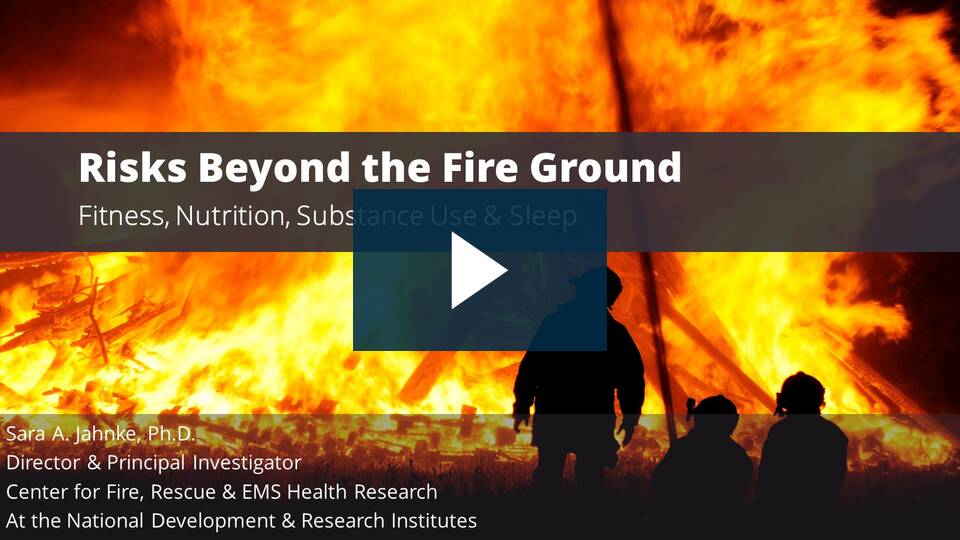 Safety and Survival: Matters of the heart for women in the fire service
Author: Dominica D'Avella (National Volunteer Fire Council)
Published: 2017
Description: An article on how promote and improve the health of both part (heart) and whole (body) for female firefighters.
Read article
Heart-Healthy Firefighter Program
Developers: National Volunteer Fire Council
Description: A prevention program that provides online tools and resources to help first responders reduce their risks for heart attacks and other heart diseases.
Visit the Heart-Healthy Firefighter Program website
Fire Fighter Injury Prevention by David Frost
Developers: David Frost
Description: In this 1-hour video presentation (originally delivered to IAFF in 2015), Dr. David Frost speaks about the impact of changing the ways firefighters train: rethinking the purpose of fitness, not just to become more fit but the effect on work life, family life, and ability to perform recreational activities.

0:00-7:10 Introduction
7:10-14:40 Peer Fitness program; exercise, redefining purpose of fitness (job, home, outside recreation)
14:40-24:26 Injury causes
24:26-30:00 Research and change fitness training approach
30:00-37:18 How to change bad habits that lead to injury
37:18-44:00 Three things to prevent injury
44:00-50:00 Wellness and Fitness Continuum (want and need/ability)
50:00-1:02:04 Steps lead to big change (how to make others care: find what is important to them)
Firefighter Life Safety Initiative 6: Medical and Physical Fitness
Developers: National Fallen Firefighters Foundaton
Description: The goal of iniative 6 is to increase awareness of the need for medical and physical wellness programs for every firefighter.
Learn more
Tactical Strength and Conditioning
Developers: National Strength and Conditioning Association (NSCA)
Description: A website that provides resources on tactical strength and conditioning. Some content accessible only to members.
View website
The Four Foundations of Tactical Fitness
Developers: Ty Wheeler, Fire Engineering
Description: Articles that provide advice on fitness conditioning and sample program.
Part 1 (2016)
Part 2: Tactical Strength (2017)
Part 3: Conditioning (2017)
Humpday Hangout (3/4/15): Firefighter Fitness
Developers: Fire Engineering (Hosted by Aaron Heller, Steve Pegram)
Description: A 1-hour video on the importance of firefighter fitness, physical training, and getting routine physical exams.

Nutrition
Fit to Survive: The firefighter's guide to health and nutrition
Developers: International Association of Fire Fighters
Description: Healthy nutrition and living resources for firefighters
Learn more
Health and Wellness
Developers: Oshawa Professional Firefighters Association
Published: 2012
Description: Short articles on maintaining and improving fitness.
Read articles